The Henri Proulx Law Library
Mr Henri Proulx
The Prescott and Russell Law Association has operated a law library in the courthouse at 1027 Queen Street, L'Orignal since 1926. This library is available to lawyers and paralegals who are members of the Law Society of Ontario, judges and court staff.
The library is named after longtime L'Orignal lawyer and Crown Attorney Mr. Henri Proulx who was called to the Bar in 1933. For over 50 years he practised law from his office in the red brick building at 28 Court Street, now the Provincial Offences Court office. Mr. Proulx died in 1986.
Barrister Mr. Edmond Proulx (1875-1956) was Henri's father. In 1926, Edmond together with four lawyers: Fred William Thistlethwaite, William Robert Hall, Raoul Labrosse and Herbert William Lawlor (all four of the Town of Vankleek Hill) established the Prescott and Russell Law Association.
The purpose of the Association: "To establish and maintain a law library at the Court House in the County Town of the United Counties of Prescott and Russell for the use of the Judge and the members of the Bar of the said United Counties of Prescott and Russell."
Access & Services
Lawyers and paralegals who are members of the Law Society of Ontario have the right to access the collections of every county law library in Ontario, and inter-library loans are possible. Out-of-town Ontario lawyers have the right to use the library as well, and the access code may be obtained from court staff, the Crown Attorney's office, or from a member of the Prescott and Russell Law Association.
At the library, lawyers can access Lexis Advance Quicklaw©, three work stations and most services usually found at the larger law libraries across the Province. AdvoCAT is the Online Public Access Catalogue (OPAC) for the Law Society of Ontario`s Great Library including the county and district law libraries in Ontario. You will find collections held by these libraries. In addition to catalogue records, AdvoCAT provides cross-references, scope notes, availability status, and information about materials still in the acquisitions stage.    Visit 
AdvoCAT Great Library
Document Delivery (Inter-Library Loans)
Legal Information & Resource Network (LIRN) maintains free document delivery service amongst the County Law Library system.  This allows us to borrow materials from libraries listed within the online catalogue. Participating libraries will either make copies of the section you need, or lend the actual book to us for you to review for a week. LIRN covers the cost of the courier to acquire these items.
Additional Library Services:
Three computer stations, wi-fi, fax, printer-copiers. The library is staffed part-time.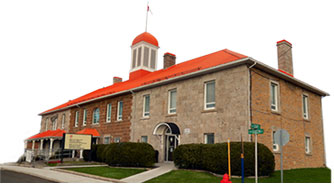 Contact Information:
Michelle Landriault
Library Assistant
1027 Queen Street, P.O. Box 540
L'Orignal, Ontario K0B 1K0Tel: 613-675-2424
Fax: 613-675-1003
Contact Us >